Years ago I met William Hendricks, co-author of "Why You Can't Be Anything You Want To Be" and was hooked on two simple truths:
God created me uniquely different on purpose.

Focus on my strengths; manage my weaknesses.
In a society that focuses on conformity and averaging, this book opened my eyes to the possibility of changing how I learn and grow. One of the main premises is that our education system teaches us to work on improving in areas where we are weak. So, if a student routinely gets A's in History and Language Arts but consistently only delivers C's in Math and Science, our educators teach us to bring those C's up to B's. However, there's nothing wrong with an average grade in a subject where you're – well, just average. Instead, build on the areas where we have natural gifting and strength so that we can highlight what makes us unique.
Soon after, I read the second work "Now, Discover Your Strengths". The focus on maximizing my existing strengths resonated deeply with me, allowing me to become extraordinary in areas where I'd naturally been very good. The book didn't ignore my weakness; it simply taught me how to keep them from become obstacles to growth.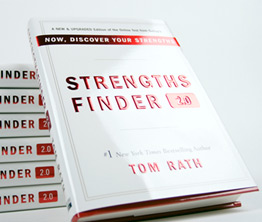 Years later I took the Clifton's Strengths Finder test. The results, in combination with the Myers Briggs assessment (ENTJ for me), helped me focus on how to leverage my personality, traits and strengths. More recently, I met Allan Kelsey at my church. Allan is a gifted consultant who has a ginormous knowledge around strengths research. Allan encouraged me to take the new Clifton's Strengths Finder test (available only through the book "Strengths Finder 2.0" by Tom Rath). Now at 38, the results were slightly different than they were in my early 30's.
The built-in, customized report that's generated from www.StrengthsFinder.com was eye-opening. Here's a bit from each of my top 5 strengths.
Strategic – People who are especially talented in the Strategic theme create alternative ways to proceed. Faced with any given scenario, they can quickly spot the relevant patterns and issues. You can present your ideas in a reasonable, sequential, and methodical way. Moreover, you generate lots of options for others to consider. Because of your strengths, you are innovative, inventive, original, and resourceful. Your mind allows you to venture beyond the commonplace, the familiar, or the obvious.

Ideation – You refuse to be stifled by traditions or trapped by routines. You probably bristle when someone says, "We can't change that. We've always done it this way." Instinctively, you welcome opportunities to understand people one by one. The hope of discovering a new way of thinking motivates you to read a lot.

Activator – Your straightforward explanations and stories help listeners see you as you see yourself. You reveal your strengths and limitations. You are forthright and plainspoken. Instinctively, you regularly energize people with your ideas about what can be changed or done better.

Relator – Because of your strengths, you are known for making unintelligible or complex ideas, plans, procedures, or regulations easy to understand. It's very likely that you find it easier to befriend people when they tell you what they want to accomplish. When you can share information that helps people move closer to their goals, you understand each other better. By nature, you may be determined to share some of your knowledge, skills, or experiences with people.

Competition – Because of your strengths, you rely on reason to make sense of facts, events, people's behavior, problems, or solutions. Instinctively, you peruse books, publications, documents, or Internet sites to gather information and collect insights. This knowledge often gives you the edge you need to produce better outcomes or scores than anybody else can.
Previously, I'd not had the Activator category (it was Command). Reading through the Activator, I instantly understood how this explains my overwhelming desire to tell stories in order to drive home a point. Taken as part of the whole, I'd say that this is a hyper-accurate view of my top strengths. My next step is to find ways to build upon them through my interactions with people. I'm excited to put a renewed focus on these descriptions and learn from my friend Allen Kelsey as he helps me work through the implications and processes necessary to yield substantial growth.
If you've taken the new Strengths Finder 2.0 test, tell me your top 5 strengths and how you're building upon them.
UPDATE: I've written how my church, Gateway Church, uses Strengths Finder as part of helping connect new volunteers to opportunities to serve in areas that fit their strengths. Read it here: "Why Many Church Volunteers Are Unhappy – And How To Solve It".